September 2017
김기라, 정연두, Sasa[44], 박미나, 《서울로 미디어캔버스》 참가
전시작가: 김기라, 정연두, 사사, 박미나
전시기간: 2017년 9월 21일 – 12월 20일
전시장소: 만리동광장 우리은행 중림지점 앞
웹사이트: http://sculture.seoul.go.kr/archives/81798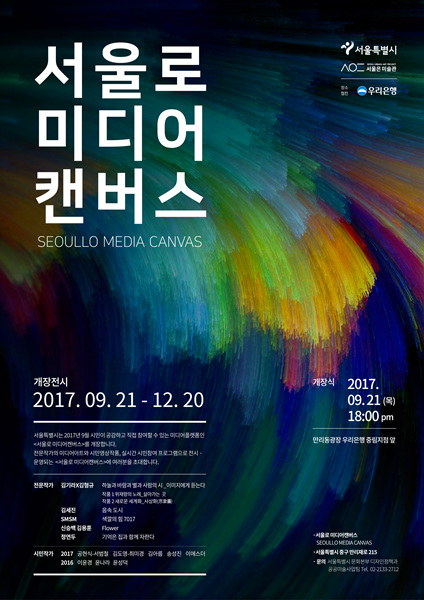 전시작가: 김기라, 정연두, 사사, 박미나
전시기간: 2017년 9월 21일 – 12월 20일
전시장소: 만리동광장 우리은행 중림지점 앞
웹사이트:
http://sculture.seoul.go.kr/archives/81798
국제갤러리의 김기라, 정연두, 사사, 박미나의 작품이 9월 21일부터 서울역 앞에 설치된 《서울로 미디어캔버스》에 상영된다. 서울시는 2016년부터 '서울은 미술관' 사업을 추진해왔으며 그 일환으로 9월 21일부터 12월 20일까지 '서울로 7017' 옆에 설치된 미디어플랫폼에 전문작가의 미디어아트와 시민 영상작품이 소개되는 <서울로 미디어캔버스>를 진행한다. 미디어아트 작품들은 평일 오후 6시, 주말 오후 5시부터 11시까지 각 작품별 10분 이내로 전시되며, 공모를 통해 선정한 시민영상작품과 시민참여프로그램도 송출된다. Sasa[44]와 박미나는 그래픽디자이너 슬기와 민과 함께 결성한 프로젝트 그룹 SMSM으로 참가하여 공공미술을 통한 치유와 회복의 염원을 담은 작품 <색깔의 힘 7017>을 선보인다. 정연두는 미아동, 신길동, 아현동 등 서울의 재건축지역의 골목길을 촬영하여 소소한 삶의 기억을 기록한 작품 <Building Recollections 기억은 집과 함께 자란다>를 출품한다. 김기라는 김형규 작가와 협업한 <하늘과 바람과 별과 사람의 시_이미지에게 듣는다> 를 통해 불확실한 사회에 대한 시대정신을 담아낸다.

Works by Kira Kim, Yeondoo Jung, Sasa[44], and MeeNa Park will be screened for Seoullo Media Canvas at the Seoul Station from September 21, 2017. This event is held as part of the 'Seoul is Museum' project, which the Seoul Metropolitan Government has been spearheading since 2016, and video works by both practicing artists and the public will be introduced at a media platform installed next to Seoullo 7017. Ten minutes of each video work will be on display from 6:00pm on weekdays and 5:00pm to 11:00pm on weekends. Sasa[44] and MeeNa Park are exhibiting as a project collective named 'SMSM' that is organized with the graphic designers of the duo Sulki & Min. The group presents the work Power of Color 7017, which frames the desire to heal and encourage social recovery by way of public art. Yeondoo Jung presents Building Recollections, a video work documenting recollections of the everyday life through images from the alleyways of reconstructed areas in Seoul, including Mia-dong, Singil-dong and Ahyeon-dong. Kira Kim has collaborated with the fellow artist Kim Hyung-Kyu to create The Poem of the Sky, Wind, Stars and People_Listening to Images, which presents the zeitgeist of uncertain times.
[Source from Seoul Metropolitan Government website]