June 2017
김수자, 빌 비올라, 카셀에서 개최되는 dOCUMENTA 14 참여
참여작가: 김수자, 빌 비올라
전시기간: 2017년 6월 10일 – 2017년 9월 17일
전시기관: Fridericianum, Kassel, Germany
웹사이트: http://www.documenta14.de/en/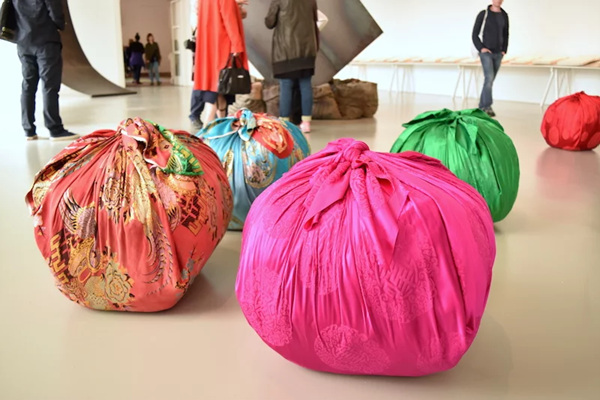 Kimsooja, Bottari, 2005, site-specific installation consisting used bedcovers and clothing, Courtesy of EMST, Photo by Ben Davis
참여작가: 김수자, 빌 비올라
전시제목: Kassel dOCUMENTA
전시기간: 2017년 6월 10일 – 2017년 9월 17일
전시기관: Fridericianum, Kassel, Germany
웹사이트:
http://www.documenta14.de/en/
국제갤러리의 김수자와 빌 비올라는 2017년 6월 10일부터 9월 17일까지 독일 카셀에서 개최되는 dOCUMENTA 14 중 가장 중요하고 역사적인 전시장소인 프리데리치아눔 미술관 전시에 참여한다. 동시에 아테네에서도 개최되는 본 행사의 일환으로 아테네 도큐멘타의 주요 전시장인 아테네 국립 현대 미술관 (EMST)은 컬렉션의 일부를 카셀에 대여하여 선보이며, 이 중 김수자의 <보따리>(2005)와 빌 비올라의 (2004)가 포함된다. 이라는 제목의 컬렉션 전시는 82명의 작가가 제작한 180점의 작품으로 구성되어 있으며, 국경이동, 디아스포라 및 문화교류와 같은 다양한 사회정치적 문제들을 탐구한다. 김수자는 새로운 전시장소의 변화를 포용하는 의미로 아테네에서 수거한 사용된 의류, 천으로 구성된 기존 <보따리> 작업에 카셀에서 수집한 중고 의류와 이불보를 추가하여 새롭게 선보인다. 함께 전시되는 빌 비올라의 (2004)는 EMST 커미션 작품이다.

Kimsooja and Bill Viola participate in dOCUMENTA 14 at the historic main venue Fridericianum in Kassel, Germany, from June 10 through September 17, 2017. As part of the show, Athens National Museum of Contemporary Art (hereafter EMST), the main exhibition venue of dOCUMENTA 14 exhibition counterpart in Athens, lent part of its collection to the Fridericinum, including Kimsooja's Bottari (2005) and Bill Viola's The Raft (2004). The collection on view, titled ANTIDORON – The EMST Collection, consists of 180 artworks by 82 artists and deals with various social and political issues such as border crossing, diaspora and cultural exchange. To accommodate this change of venue, Kimsooja modified her existing Bottari installation with the addition of used clothing and bedcovers from Kassel together with the existing garments from Athens. Bill Viola's The Raft, also on view as part of this collection, is a work commissioned by the EMST.
[Source from the dOCUMENTA 14 website]