June 2017
노충현, 서울대학교 미술관에서 개최되는 그룹전 참여
참여작가: 노충현
전시제목: 미술관 동물원
전시기간: 2017년 6월 7일 – 2017년 8월 13일
전시기관: 서울대학교 미술관 전관
웹사이트: http://www.snumoa.org/Moa_new/programs/exhibitions_review.asp?sType=c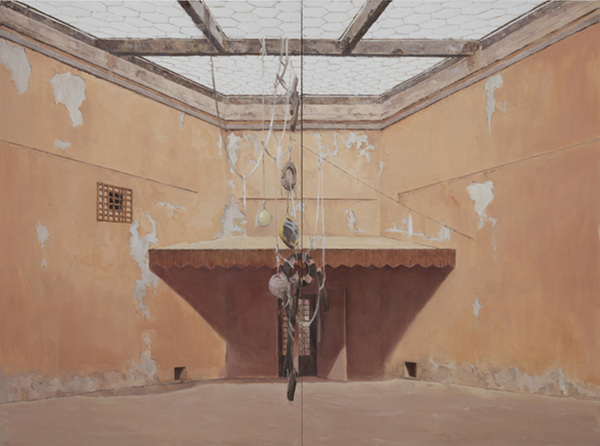 <연극이 끝난 후 (After a play ends)>, 194 X 260cm, oil on canvas, 2015
참여작가: 노충현
전시제목: 미술관 동물원
전시기간: 2017년 6월 7일 – 2017년 8월 13일
전시기관: 서울대학교 미술관 전관
웹사이트:
http://www.snumoa.org/Moa_new/programs/exhibitions_review.asp?sType=c
국제갤러리의 노충현은 2017년 6월 2일부터 8월 13일까지 서울대학교 미술관에서 개최하는 <미술관 동물원> 그룹전에 참여한다. 본 전시는 올해 서울대학교 미술관의 두 번째 기획 전시로, 서구 제국주의와 권력의 상징인 '동물원'과 '동물'을 둘러싼 여러 인문 사회학적, 윤리적 이슈들을 약 55점의 회화, 조각, 설치, 사진작업을 통해 탐구한다. 이번 전시에 참여하는 15명의 작가들과 팀은 시대의 패러다임에 따라 변화하는 동물에 대한 인식의 변화를 보여주고, 인간의 욕망과 진보의 역사를 담고 있는 동물원이 제기하는 문제들을 던진다. 소외되고 삭막한 장소를 주제로 시대의 담론을 생성해 온 노충현은 이러한 이슈들을 <연극이 끝난 후>(2015)에 담아내어, 마치 배우가 떠난 연극 무대처럼 인위적으로 만들어진 건축물인 동물원에서 동물이 사라진 풍경을 쓸쓸한 시선으로 바라본다.

Choong-Hyun Roh participates in Museum Zoo, a group exhibition held at the Museum of Art at the Seoul National University from June 2 to August 13, 2017. As the museum's second curated exhibition this year, the exhibition explores sociological issues that rose from the establishment of the zoo and the animals that apparently "belong" in it, which began as a symbol of Western imperialism and power, through 55 works of painting, sculpture, and photography. The 15 artists and collective that participate in Museum Zoo address the change in society's perception of animals according to the social paradigms of the time and bring to surface the issues of human desire and progressive history that dwell in the enterprise of the zoo. Roh, known for constructing dialogue through the portrayal of alienated and desolate places, explores these issues in his work After a Play Ends (2015), depicting an empty zoo enclosure that echoes feelings of solitude.

[Source from the Seoul National University Museum of Art website]