October 2011
Solo exhibition of Anselm Reyle in Athens, Greece 안젤름 라일리, 그리스 아테네 개인전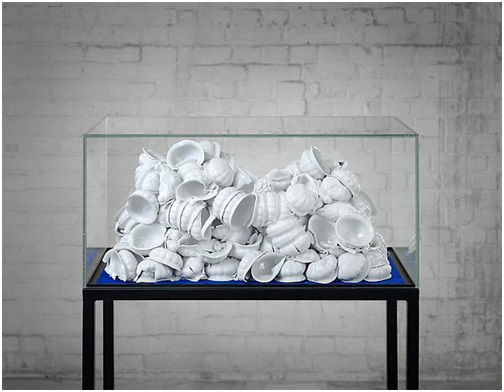 Untitled, 2011
Porcelain in glass display
140 x 87 x 54 cm overall
Courtesy of the artist / Photo by Anselm Reyle
전 시 명: 마이센 잔해의 성채
전시기관: 아테네 가고시안 갤러리
전시기간: 2011년 10월 17일 – 11월 16일
개관시간: 월-금 11am – 6pm, 토 사전예약
웹사이트: http://www.gagosian.com/
담 당 자: 전민경 (02-3210-9885)
국제갤러리 전속 작가인 안젤름 라일리의 개인전이 오는 17일부터 그리스 아테네 가고시안 갤러리에서 열린다. "마이센 잔해의 성채(Meissen Debris Acropolis)"라는 제목 하에 열리는 이번 전시에서 작가는 독일 마이센 자기 공장에서 만들어진 포슬린을 사용한 새로운 조각을 선보인다. 신작은 전통적 방식에 따라 불에 두 번 구워져 탄생한 마이센 자기 잔해들이 융합된 하나의 큰 조각으로 벨벳이 깔린 유리 진열창에 놓여진다. 신작과 더불어 전시되는 유화 및 조각들은 케네스 놀런드나 오토 프론드리히가 지향한 색채 추상은 물론 피에로 만조니의 무채색 모노크롬과 이브 클라인의 청색 모노크롬에 대한 오마주라 볼 수 있다. 이번 전시를 '조각에 대한 명상'이라고 밝힌 작가는 '고대 시대의 폐허가 지배하는 현대 도시'인 아테네 주변 환경에 대한 응답으로 작품들을 만들었다고 덧붙인다.
안젤름 라일리은 1970년 독일 튀빙겐에서 태어났으며 현재 베를린에서 거주 및 작업을 하고 있다. 국제갤러리는 지난 해 10월 안젤름 라일리의 한국에서의 첫 개인전을 개최한 바 있다.
Exhibition Title : Meissen Debris Acropolis, Gagosian Gallery, Athens, Greece
Schedule : Oct 17 – Nov 16, 2011, Mon-Fri: 11am – 6pm, Sat by Appointment
Contact : Zoe Chun +82 2 3210 9885
Kukje Gallery's represented artist Anselm Reyle's solo exhibition will open at Gagosian Gallery Athens on October 17th. Under the exhibition title Meissen Debris Acropolis, the artist presents a series of sculptures that use porcelains that are produced at the Meissen porcelain factory in Germany. In the works, the double-fired porcelain residues are fused together into wholes and displayed in velvet-lined vitrines. They are complemented by a series of sculptures and paintings that reference historical abstractionists such as Kenneth Noland and Otto Freundlich, and that also serve as homage to the Anchromes of Piero Manzoni and the blue monochromes of Yves Klein. Calling his recent works a "meditation on the fragment," Anselm Reyle adds that the exhibited works were made in response to the surroundings of Athens, "a modern city dominated by classical ruins."
Anselm Reyle was born in 1970 in Tübingen, Germany and currently lives and works in Berlin. Last year, Kukje Gallery has presented Anselm Reyle's first solo exhibition in Korea.