September 2011
홍승혜 작가, Salon de H 그룹전 참여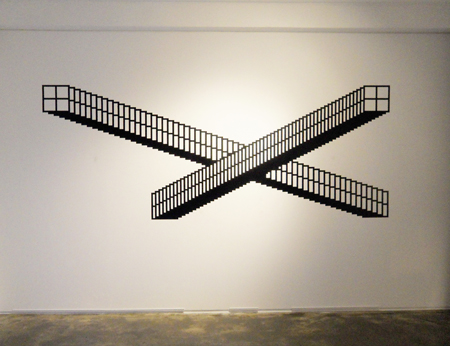 Installation view at Salon de H, Seoul
전시명: Communication Disorder 소통의 부재
전시기관: 살롱 드 에이치 Salon de H
전시기간: 2011년 9월 22일 – 10월 21일
전시작가: 홍승혜, 윤성지, 이은선
개관시간: 월-금 11am – 7pm, 토 11am – 6pm
웹사이트: www.artcompanyh.com
홍승혜 작가는 9월 22일부터 10월 21일까지 를 주제로 한 그룹전에 참여한다. 이번 전시에서는 기표와 기의라는 이분법적 기호이론을 벗어난 소통에서의 장애를 드러냄과 동시에 각기 다른 세 작가의 작업에서 보여지는 새로운 기호적 이미지와 언어를 통한 다층적인 소통을 제안하고자 한다. 홍승혜 작가는 본 전시에서 갤러리 1층 한 벽면을 가득 메운 설치작업과 함께 이 작업의 제목을 재현한 네온작품 1점, 그리고 평면작업 4점을 선보인다.
Hong Seung-Hye is participating in a group exhibition titled Communication Disorder from September 22nd to October 21st. In the exhibition, Hong reveals disconnect in communication through the use of signs and signifiers which deviate from the dichotomous sign theory. At the same time, multi-layered communication is suggested through the new symbolic images and language that exist in each of the three participating artists. Along with an installation work that fills an entire wall of the first floor gallery space, Hong Seung-Hye presents a neon work and four other works in the exhibition.
홍승혜의 유기적 기하학적 이미지는 사회에서 약속된 기호체계로는 인식이 불가능하다. 그가 컴퓨터의 픽셀을 통해 만들어내는 이미지들은 인식 가능한 구체적인 대상이 아닌, 새로운 관계 맺음(소통)을 통해 진화 중인 새로운 기호이다. 이러한 홍승혜의 기호적 이미지는 특정 대상을 재현하거나 표방하지 않는다. 대상이 제거된 채, 작가 스스로가 만들어가는 구축적인 형상을 통해 유기적 기하학적 이미지가 완성된다. 그리고 이렇게 재현된 새로운 이미지 기호들은 질서를 가지고 구체화 된 듯 보이지만 또 다시 어떤 형태로 변형될지 모르는 잠재성을 지니고 있다. 스스로 증식하여 형태가 변형되거나 관객들의 이미지 '읽기'를 통해 무한한 의미의 변화를 가질 수도 있다. 홍승혜의 이미지는 아직 기호적 의미가 없는 기하학적 발아 상태에 머물러 있다. 끊임없이 공간과 관계를 맺으면서 탄생과 증식을 반복하게 되는 그의 유기적 기하학은 판단이 유보된 상태로서 언제든지 변화할 수 있는 유동적인 기호로서 존재하게 된다.
The Source of the Contents. Salon de H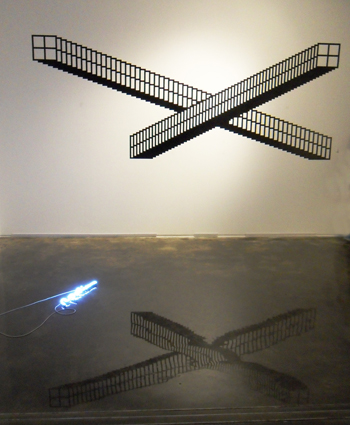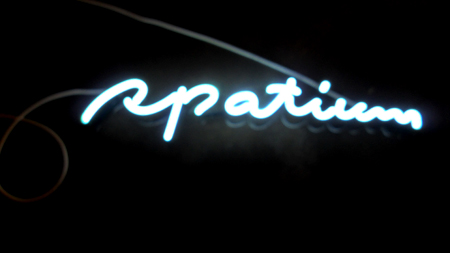 Installation view at Salon de H, Seoul