March 2017
양혜규, 함경아, 제 5회 아트바젤홍콩 UBS 토크 참여
Artist: Haegue Yang (양혜규), Kyungah Ham (함경아)
Artist Talk Dates: 3 - 3.30 PM, Wed, Mar 22, 2017 (Kyungah Ham)
4 - 4.30 PM, Wed, Mar 22, 2017 (Haegue Yang)
Host Organization: Union Bank of Switzerland (UBS)
Event Venue: HKCEC (홍콩 컨벤션 센터) UBS Lounge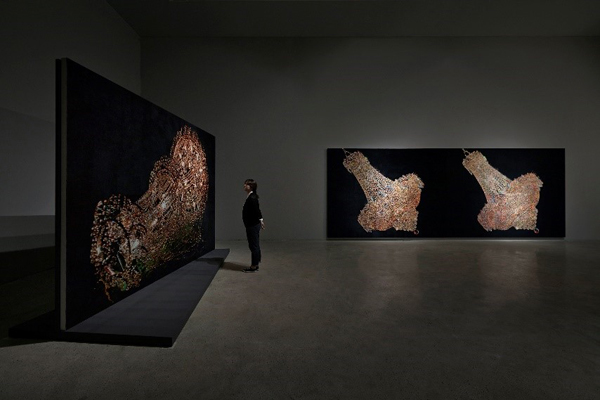 Phantom Footsteps, Kyungah Ham solo exhibition, installation view at Kukje Gallery K3, 2015. Photo: Keith Park, courtesy of Kukje Gallery
Artist: Haegue Yang (양혜규), Kyungah Ham (함경아)
Artist Talk Dates: 3 - 3.30 PM, Wed, Mar 22, 2017 (Kyungah Ham)
4 - 4.30 PM, Wed, Mar 22, 2017 (Haegue Yang)
Host Organization: Union Bank of Switzerland (UBS)
Event Venue: HKCEC (홍콩 컨벤션 센터) UBS Lounge
Haegue Yang and Kyungah Ham will participate in UBS Talks, taking place at the UBS Lounge during Art Basel Hong Kong. UBS, a partner of Art Basel since 1994, hosts important events linking the arts with finance in all of Basel, Miami Beach, and Hong Kong editions. For this year's Art Basel Hong Kong, UBS will hold a series of thirty-minute talks between artists, representatives from leading art institutions, and various art world figures in their lounge in the Hong Kong Convention and Exhibition Centre. Kyungah Ham will be in conversation at 3 PM on March 22 (VIP opening) with the Tibetan artist Gonkar Gyatso. Ham exhibited in the Art Basel Hong Kong Encounters sector last year and Gyatso is exhibiting this year. The two will be discussing their artistic practices and the role of "artists" in contemporary culture. Zoe Chun, Kukje Gallery's Communications Director, will moderate the discussion. Following Ham, Haegue Yang will participate in a talk at 4PM on March 22 with Mami Kataoka, Artistic Director of the 21st Biennale of Sydney opening in 2018. The talk will center around Yang's artworks exhibited at Duddell's, a famous exhibition space and restaurant in Hong Kong.


양혜규, 함경아, 제 5회 아트바젤홍콩 UBS 토크 참여

국제갤러리의 양혜규, 함경아는 제 5회 아트바젤 홍콩 기간 중 스위스 연방은행 (이하 UBS) 라운지에서 개최되는 토크 프로그램에 참여한다. UBS는 1994년부터 아트바젤과의 협업 하에 스위스 바젤, 미국 마이애미비치, 그리고 홍콩에서 개최되는 행사마다 금융권과 예술을 연계하는 중요한 행사들을 개최하고 있다. 이번 아트바젤 홍콩에서는 홍콩 컨벤션 센터 내에 위치한 UBS 라운지에서 삼십 분 동안 작가, 주요 예술기관 관계자들, 영향력 있는 미술계 인사들이 관객들과 이야기를 나눌 수 있는 UBS 토크를 개최한다. 작년 아트바젤 홍콩 인카운터스 섹터에 참가한 함경아는 VIP 오프닝 날인 22일 3시부터 올해 동일한 섹터에서 작품을 소개하는 티베트 출신 작가 Gonkar Gyatso와 함께 자신들의 작품세계와 '작가'의 역할에 대해 이야기를 나누며, 국제갤러리 대외협력팀의 전민경 디렉터가 사회를 맡을 예정이다. 이어 양혜규는 오후 4시에 2018년 제 21회 시드니 비엔날레 예술감독 Mami Kataoka와 함께 홍콩의 유명한 레스토랑 겸 미술전시장 Duddell's에 출품되는 그의 작품에 대해서 이야기를 나눌 예정이다.