November 2016
최재은, 일본 와타리움 현대미술관에서 토크 참여
전시작가: 최재은
행사제목: 2020년 웃고 있는 것은 누구 ?+?=?? 2020年笑っているのは誰 ?+?=??
행사일시: 2016년 11월 19일 토요일 l 7ㅡ9 PM
행사장소: 일본 도쿄 와타리움 현대미술관 WATARI-UM, The Watari Museum Of Contemporary Art
웹사이트: http://www.watarium.co.jp/exhibition/1608paik/index.html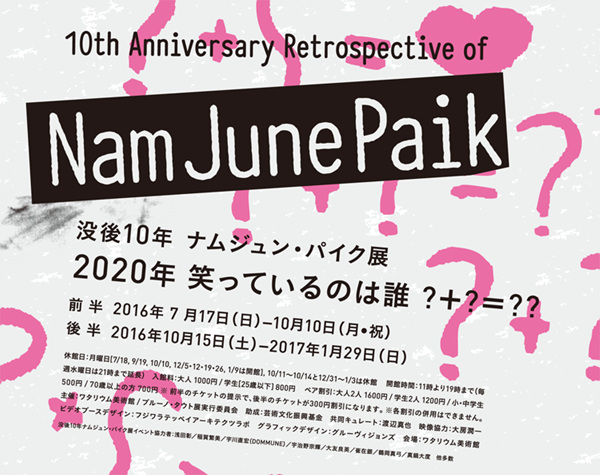 전시작가: 최재은
행사제목: 2020년 웃고 있는 것은 누구 ?+?=?? 2020年笑っているのは誰 ?+?=??
행사일시: 2016년 11월 19일 토요일 l 7ㅡ9 PM
행사장소: 일본 도쿄 와타리움 현대미술관 WATARI-UM, The Watari Museum Of Contemporary Art
웹사이트:
http://www.watarium.co.jp/exhibition/1608paik/index.html
최재은은 11월 19일 토요일 저녁 7시부터 9시까지 일본 도쿄 와타리움 현대미술관에서 개최되는 백남준 10주기 회고전 《2020년 웃고 있는 것은 누구 ?+?=??》전 연계 토크에 참가한다. 백남준 타계 10주기를 맞아 기획된 대형 전시로 7월 17일부터 10월 10일까지 1956년대부터 88년까지의 작품을 소개하는 전반부 전시가 개최되었으며, 이어 10월 15일부터 2017년 1월 29일까지 90년대와 2000년대 작품을 비롯하여 백남준의 관점으로 2020년을 예측해보는 작품이 소개되는 후반부가 개최된다. 최재은은 후반부 전시의 일환으로 11월 19일 토크에 참가하여 1984년 소게츠 회관의 <백남준 보이스 피아노 듀엣>가 개최되었을 당시 백남준을 처음 만났던 일부터 1988년 서울 올림픽과 1993년 대전 엑스포 <Recycle Art Pavilion>을 제작한 것에 대한 이야기를 나눌 예정이다.
Jae-Eun Choi will be participating in a collateral talk to mark the occasion of the 10th anniversary retrospective of Nam June Paik,
2020: Who Is the One Grinning ?+?=??
, taking place from 7PM to 9PM on November 19, 2016, at The Watari Museum of Contemporary Art in Tokyo, Japan. The large-scale exhibition is divided into two parts and celebrates the 10th anniversary of Nam June Paik's death. The first half of the exhibition was an introduction to Paik's works dating from 1956 to 1988, held from July 17 to October 10. The second half of the retrospective will be held from October 15 through January 29, 2017. This second survey will focus on Paik's work from the 1990s to the 2000s and explore his prediction for the year 2020. Jae-Eun Choi will participate in the exhibition's collateral talk on November 19. Her dialogue will discuss her first encounter with Paik at Sogetsu Hall for the
Nam June Paik Voice Piano Duet performance
in 1984, and later at the 1988 Seoul Olympics, and in his
Recycle Art Pavilion
at Daejeon EXPO 1993.