June 2016
양혜규, 2016 아트 바젤 <언리미티드> 섹션 참가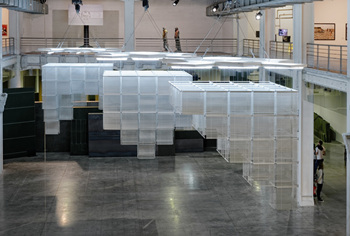 <솔 르윗 뒤집기 – 23 배로 확장 후 셋으로 나뉜, 세 개의 탑이 있는 구조물>, 2015
Courtesy of Kukje Gallery, 이미지제공: 국제갤러리

≪모던 라이프≫ 전시 전경, 리옹 비엔날레, 라 쉬크리에, 리옹, 프랑스, 2015
사진 © Blaise ADILON
전시작가: 양혜규
전시제목: 아트바젤 언리미티드
전시기간: 2016.06.16- 06.19
프리뷰: 2016.06.14
전시기관: 스위스 바젤 메세플라츠(Messeplatz)
웹사이트:
https://www.artbasel.com/basel/the-show
국제갤러리 양혜규는 올해 6월 16일부터 19일까지 개최되는 아트바젤에서 언리미티드 섹션에 참여한다. 아트바젤 언리미티드 섹션은 대형 조각작품과 대규모 설치작품을 주로 선보이는 실험적인 플랫폼으로 올해 지아니 젯처 (Gianni Jetzer) 큐레이터의 기획으로 구성되며, 양혜규 외에도 제임스 로젠키스트, 아이 웨이웨이, 폴 매카시 등의 작품이 출품된다. 양혜규는 '솔 르윗 뒤집기' 연작 중 <솔 르윗 뒤집기 – 23 배로 확장 후 셋으로 나뉜, 세 개의 탑이 있는 구조물>(2015)을 선보인다.
Haegue Yang participates in Art Basel's Unlimited Sector from June 16 to 19, 2016. Unlimited is Art Basel's pioneering exhibition platform focusing in large-scale sculptures and installations. Curated by Gianni Jetzer, along with Haegue Yang this year's program includes works by artists including James Rosenquist, Ai Weiwei, and Paul McCarthy. Yang will present the major work
Sol LeWitt Upside Down – Structure with Three Towers, Expanded 23 Times, Split in Three
(2015) from her series
Sol LeWitt Upside Down.