May 2016
최재은, 제 15회 베니스 비엔날레 건축전 아르세날레 참가
전시작가: Jae-Eun Choi (Korean, 1953)
전시제목: 제15회 베니스 비엔날레 건축전
전시기간: 2016.05.28 – 2016.11.27
전시기관: 이탈리아 베니스 아르세날레
웹사이트: http://www.labiennale.org/en/Home.html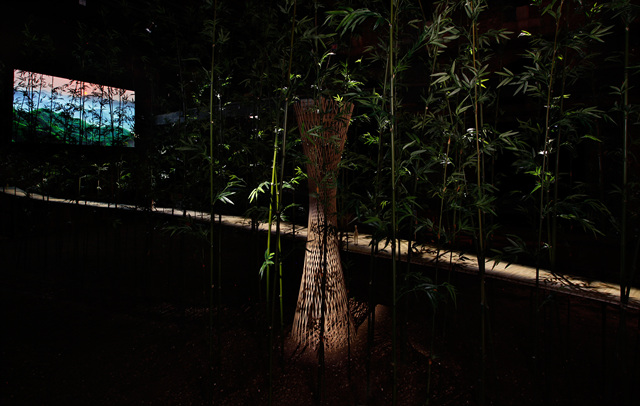 DMZ Project <夢의 庭園 / Dreaming of Earth> 설치전경
사진: 김태동, 이미지 제공: 국제갤러리
전시작가: Jae-Eun Choi (Korean, 1953)
전시제목: 제15회 베니스 비엔날레 건축전
전시기간: 2016.05.28 – 2016.11.27
전시기관: 이탈리아 베니스 아르세날레
웹사이트:
http://www.labiennale.org/en/Home.html
국제갤러리 최재은은 5월 28일부터 11월 27일까지 <REPORTING FROM THE FRONT> 이라는 주제로 사회문제에 참여하는 건축의 도전에 초점을 맞추어 개최되는 제15회 베니스 비엔날레 건축전 본전시 아르세날레에 참여한다. 작가는 향후 DMZ에 설치를 제안하는 <夢의 庭園 / Dreaming of Earth> 공중정원 프로젝트를 실물크기의 1/200로 축소하여 구현한 설치작품을 선보이며, 본 프로젝트를 소개하는 긴 컨셉 기획서와 지도가 전시장 벽면에 설치되어 프로젝트에 관한 심도 있는 이해를 도울 예정이다. 실제 유기된 DMZ 철책선의 일부를 설치작품으로 선보이면서 분단이라는 현실과 DMZ라는 공간에 대한 경각심을 일깨우고자 한다. 추가로 소리, 빛 등이 주요한 작품의 매개체로 작용하는 총 2-채널 비디오 작업인 <불과 시간 (Fire and Time)>이 본 전시에서 새롭게 소개된다. 이는 20세기 초 발발한 러ㆍ일 전쟁에서부터 현재에 이르기까지 DMZ생성 과정에 관한 기록사진들과 생태계 초자연의 풍경 및 아카이브 사진들을 병치하여 보여주는 영상작품으로, 현 남북한이 대치하고 있는 국제 관계와 자연에 대해 다각적인 면모를 고찰한다. 약 20분 30초 분량의 본 작품은 DMZ에 관한 풍부한 정보들을 제공하며 역사적인 맥락에 기반을 둔 심도 깊은 탐구를 촉진하고, 세계인들에게 DMZ의 현실을 공유하고 참여하는 계기를 마련할 것이다.
Choi Jae Eun participates in the 15th International Architecture Exhibition of la Biennale di Venezia, under the theme of REPORTING FROM THE FRONT, focusing on the architectural challenges on social issues from May 28th to November 27th, 2016. The artist presents
夢의 庭園 / Dreaming of Earth
, floating garden project proposed for installation in the Demilitarized Zone (DMZ) in 1/200 scale, along with the extensive concept proposal and map mounted on the wall to give in-depth understanding of the project. Displaying abandoned actual cease-fire lines from the DMZ as a part of the installation, Choi attempts to bring awareness to the reality of a divided country and the region of the DMZ. In addition to the installation, the artist will present
Fire and Time
, a two-channel video work that uses sound and light as the main mediums. The video juxtaposes photographs documenting the DMZ's formation from the Russo-Japanese War with scenes of primeval nature and archived photographs, considering the diverse facets between international relations of the current confrontation between North and South Korea and the ecosystems. The work, approximately 20 minutes and 30 seconds in length, will be an opportunity to share the reality of the DMZ to the world providing abundant information about the DMZ, and promote in-depth investigation based on historical context.