April 2016
홍승혜, 양주시립장욱진미술관에서 개최되는 그룹전 참여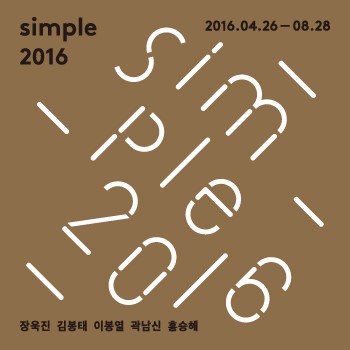 전시작가: Hong Seung-Hye
전시제목: simple 2016
전시기간: 2016.04.26 – 2016.08.28
전시기관: 양주시립장욱진미술관
웹사이트:
http://changucchin.yangju.go.kr/
홍승혜는 4월 26일부터 8월 28일까지 양주시립장욱진미술관에서 개관2주년 기념 연례전으로 열리는 그룹전<simple 2016>에 참여한다. 장욱진의 '심플(simple)' 정신을 확대하고 재해석하는 이번 전시에는 홍승혜를 비롯한 장욱진, 김봉태, 이봉열, 곽남신의 작품 약 30여점이 전시될 예정이다. 홍승혜는 그래픽을 이용하여 픽셀의 수직과 수평의 그리드를 벗어난 유기적이고 리듬감 있는 새로운 형태의 작품을 선보인다.
Hong Seung-Hye participates in the group exhibition
simple 2016
at Chang Ucchin Museum of Art in Yangju City, South Korea. To celebrate the museum's 2nd anniversary, thirty artworks from Hong Seung-Hye, Chang Uncchin, Bong Tae Kim, Lee Bong Real, and Kwak Nam Sin are displayed in this annual exhibition seeking to widen and redefine Chang Ucchin's philosophy of 'simple'. By employing graphics, Hong Seung-Hye breaks away from the vertical and horizontal pixel grid to present a new organic and rhythmic work.
[Source from Chang Ucchin Museum of Art website]