May 2016
구본창, 오형근, 박찬경, 양혜규, 김수자, 최재은, 정연두, 국립현대미술관에서 그룹전 참여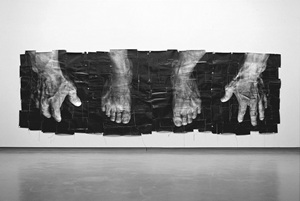 구본창,
태초에 10-1
전시작가: 구본창 (b. 1953), 오형근 (b. 1963), 박찬경 (b. 1965), 양혜규 (b. 1971), 김수자 (b. 1957), 최재은 (b. 1953), 정연두 (b. 1969)
전시제목: 아주 공적인 아주 사적인: 1989년 이후, 한국현대미술과 사진
전시기간: 2016.05.04 – 07.24
전시기관: 국립현대미술관
웹사이트:
http://www.mmca.go.kr/exhibitions/
국제갤러리의 구본창, 오형근, 박찬경, 양혜규, 김수자, 최재은, 정연두는 5월 4일부터 7월 24일까지 국립현대미술관에서 개최되는 그룹전 <아주 공적인 아주 사적인: 1989년 이후, 한국현대미술과 사진>에 참여한다. 이번 전시는 구본창, 오형근, 박찬경, 양혜규, 김수자, 최재은, 정연두를 포함한 60여명의 작가들이 참여하는 대규모 전시로 총 4개의 챕터로 구성되며, 리얼리즘에 근거한 공적 이미지로 시작한 사진매체가 1989년 이후 작가 개인의 개념표현과 심미적 언어로써 기능하게 된 것에 주목한다. '실험의 시작'을 주제로 한 첫 번째 챕터에는 구본창과 오형근의 작품이, '개념미술과 사진'을 주제로 한 두 번째 챕터에는 박찬경과 양혜규의 작품이 소개된다. 그리고 세 번째 챕터 '현대미술과 퍼포먼스, 그리고 사진'에서는 김수자, 정연두, 최재은의 작품이 전시되며, 현대미술계에서 이미지의 변화를 소개하는 네 번째 챕터에서는 오형근의 작품이 소개될 예정이다.
Koo Bohnchang, Hein-kuhn Oh, Park Chan-Kyong, Haegue Yang, Jae-Eun Choi, and Yeondoo Jung participate in the group exhibition
PUBLIC TO PRIVATE: PHOTOGRAPHY IN KOREAN ART SCENE SINCE 1989
at the National Museum of Modern and Contemporary Art (MMCA) in Seoul, South Korea, from May 4 to July 24, 2016. Bringing together 60 artists, this large-scale exhibition is divided into 4 chapters, focusing on how photography that was rooted in realism after 1989 developed as a visual language expressing personal concepts and aesthetics.
CHAPTER 1. Experiement Starts
presents works from Koo Bohnchang and Hein-kuhn Oh,
CHAPTER 2. Conceptual Launch
displays works from Park Chan-Kyong and Haegue Yang,
CHAPTER 3. Performance and site specificity in contemporary art
exhibits works from Kimsooja, Yeondoo Jung, and Jae-Eun Choi, and
CHAPTER 4. Exterior & interior landscape
showcases works from Hein-kuhn Oh.
[Source from MMCA website]