April 2016
박찬경, 아시아문화전당에서 개최되는 <시간의 빗장이 어긋나다>에 참여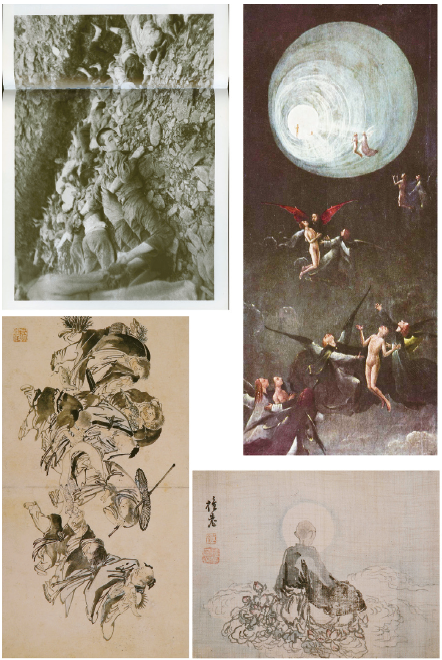 〈작은 미술사 1〉, 2015, 스무 개의 이미지와 손으로 쓴 글, 가변 크기
전시작가: Park Chan-Kyong (Korean, 1965)
전시제목: The Time is Out of Joint
전시기간: 2016.04.08 – 2016.04.17
전시기관: 국립아시아문화전당
웹사이트:
http://www.acc.go.kr/
박찬경은 4월 8일부터 17일까지 국립아시아문화전당에서 개최되는 ≪시간의 빗장이 어긋나다≫ 프로젝트에 참여한다. 아시아문화전당과 샤르자예술재단이 공동으로 제작하고 이집트 출신의 독립큐레이터 타렉 아부 엘 페투가 기획한 ≪시간의 빗장이 어긋나다≫는 역사가 전환되는 시점이었던 1974년 바그다드에서 열린 제1회 '아랍 예술 비엔날레'와 1989년 베이징에서 열린 '차이나/아방가르드' 전시를 재연하고, 2022년에 인도네시아 족자카르타에서 열릴 '적도 컨퍼런스'를 소환하여 미래에 열릴 전시를 미리-재연한다. 이를 통해 당대의 미술과 생각들을 선보이면서 서로 다른 장소와 과거와 현재의 상황 차이에서 비롯되는 제약들을 살펴보고자 한다. 박찬경은 한국에서는 처음으로 〈작은 미술사 1〉를 선보이며 서구 중심의 미술사를 작가의 의도대로 재배치함으로써 미술사와 역사를 재창조하고, 같은 방식으로 무한하게 전개될 수 있는 주관적 미술사를 보여준다.
Park Chan-Kyong participates in the project
The Time is Out of Joint
at the Asia Culture Center from April 8th to 17th. Co-organized by the Asia Culture Center and the Sharjah Art Foundation, the exhibition is curated by independent Egyptian curator Tarek Abou El Fetouh. The project reenacts the First Arab Art Biennial in Baghdad in 1974, the China/Avant-Garde exhibition in Beijing in 1989, and pre-enacts a future event to take place in Yogyakarta in 2022. Through these enactments the art and ideas of each time are revisited, and also investigates the constraints that occur between the past and present and the different locations. For the first time in Korea, Park Chan-Kyong presents
Small Art History #1
, where the artist rearranges art history, which centers on the West. Park thus recreates art history and history itself, and shows the endless possibilities in developing a subjective art history.
[Source from ACC website]