March 2016
김기라, 정연두, <브릴리언트 메모리즈:동행>전 참가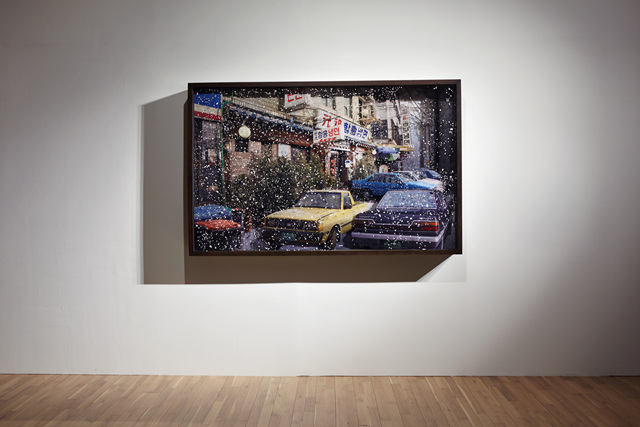 전시작가: Kira Kim, Yeondoo Jung
전시제목: 브릴리언트 메모리즈:동행
brilliant memories: with
전시기간: 2016.03.22 – 2016.04.21
전시기관: 서울시립 북서울미술관
참여작가: 김기라x김형규, 정연두 외 10명
웹사이트:
http://brand.hyundai.com/ko/live-brilliant/memories/brilliant-memories-2016.do
국제갤러리의 정연두와 김기라는 현대자동차와 서울시립미술관이 공동주최한 <브릴리언트 메모리즈:동행>전에 참가한다. 3월 22일부터 4월 21일까지 열리는이 전시에는 동시대 미술작가들이 자동차를 하나의 조형언어이자 사회, 역사,삶과 소통하는 매개체로 해석한 작품들을 선보인다.12명의 작가들은 폐차 직전에 이른 자동차를 활용하여 자동차에 담긴 사연과 차주의 삶을 작업으로 풀어내면서 개인의 기억과 추억을보편적인 삶의 정서와 문화로 생성한다.김기라는 김형규 작가와 콜라보레이션을 통해 차량 주인의 추억을 담은 두 편의 영상과 자동차를 압축하여 제작한 조각작품인<잘자요 내 사랑!! Good bye my love Tra!!>를 전시한다. 정연두는 1994년 탈북한 새터민의 이야기에서 출발,당시 대중적이었던 현대자동차와 거리의 풍경들을 카메라로 담아 11개의 이미지를 하나의 프레임 안에 재구성한 사진작품 <여기와 저기 사이 Here and Elsewhere>을 소개한다.
Yeondoo Jung and Kira Kim participate in
brilliant memories: with
, an exhibition co-organized by Seoul Museum of Art and Hyundai Motor Company from March 22 to April 21. Twelve participating artists have produced artworks by drawing inspirations from cars that are nearing disposal. The works disclose the stories enclosed in the cars and its owners to create insights on life and culture based on memories and personal experiences. Kira Kim has collaborated with HyungKyu Kim to present the sculpture
Goodbye my love Tra!!
, a compressed automobile, with two films enclosing memories from its former owners. Yeondoo Jung displays
Here and Elsewhere
, a photo frame made of 11 images of the popular Hyundai automobile and street views of 1994. The project tells the story of a North Korean defector and his experience in South Korea in 1994.
[Source from brilliant memories:with & SeMA website]