October 2015
칸디다 회퍼, 런던 벤 브라운 파인아트 갤러리에서 개인전 개최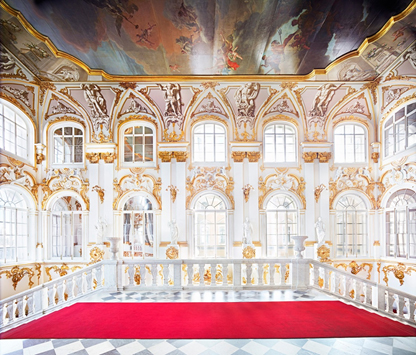 ©2015 Candida Hofer, Koln / VG Bild-Kunst Bonn
Courtesy of Ben Brown Fine Arts, London and Hong Kong
전시작가: Candida Höfer (German, b. 1944)
전시제목: Candida Höfer <Memory>
전시기관: Ben Brown Fine Arts, London, UK
전시기간: 2015.10.13 - 2015.11.27
웹사이트:
http://www.benbrownfinearts.com/exhibitions/98/overview/
칸디다 회퍼는 10월 13일부터 11월 27일까지 런던의 벤 브라운 파인아트 갤러리에서 개인전 <Memory>를 개최한다. 이 전시에는 지난 여름 러시아의 예르미타시 미술관에서 성공적으로 열렸던 개인전 <Candida Höfer. Memory>에 전시되었던 작품들 중 10점이 공개된다. 작가는 2014년 러시아에 체류하는 동안 마린스키 극장, 유스포프 궁전, 파블롭스크와 푸시킨에 위치한 궁전들, 러시아 국립도서관 등의 내부를 촬영하며 "Memory" 시리즈를 작업하였다. 이 시리즈는 그녀가 기존에 탐구했던 공간과 환영의 심화된 연구를 보여주며, 건물의 건축적인 디자인과 역사에 대해 그녀만의 관점으로 담아내었다.
The Ben Brown Fine Arts Gallery, London presents Candida Höfer's solo exhibition
Memory
from October 13th to November 27th. This exhibition will showcase 10 works from the successful
Candida Höfer. Memory
solo exhibition at the State Hermitage Museum in Russia last summer. During the year of 2014 Höfer resided in Russia, she photographed interiors of buildings such as the Mariinsky Theatre and Yusupov Palace, the palaces of Pavlovsk and Pushkin, and the Russian National Library, expanding the "Memory" series. This series of works shows of the artist's individual view of architectural design and its history, and continues to display the artist's in-depth investigation of spaces and illusionism.
<Source from Ben Brown Fine Arts, UK>