September 2015
이기봉, 국립현대미술관에서 그룹전 <2015 한-호 국제교류전 뉴 로맨스> 참여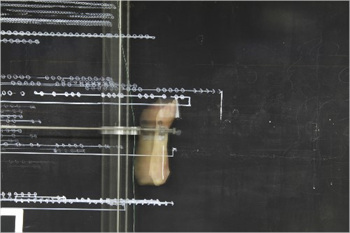 이기봉_만년설_2015 (사진=국립현대미술관 제공)
전시작가: Kibong Rhee (Korean, 1957)
전시제목: 한-호 국제교류전 뉴 로맨스
전시기간: 2015.09.22 –2016.01.24
전시기관: 국립현대미술관 서울관
참여작가: 이기봉 외 13명
웹사이트:
http://www.mmca.go.kr/exhibitions/
이기봉은 9월 22일부터 내년 1월 24일까지 국립현대미술관과 호주현대미술관이 공동 기획한 <2015 한-호 국제교류전 뉴 로맨스> 전에 참여한다. 이번 전시는 한국과 호주에서 뉴 미디어를 기반으로 활동하는 작가 14인의 영상, 설치, 퍼포먼스 작품을 입체적으로 선보인다. 이기봉이 이 전시에 최초로 공개하는 작품 "만년설"은 자연 현상을 공학적으로 재해석한 키네틱 작품이다. 작은 둥근 원 모양을 반복하여 그리는 작가의 손을 본 뜬 기계 팔이 전시장 벽 크기의 넓은 유리판 위를 움직이며 약 4개월 간의 전시 기간 동안 마치 눈처럼 유리벽을 뒤덮는 모습을 선보일 예정이다.
Kibong Rhee will be participating in
New Romance
, a collateral project between the National Museum of Modern and Contemporary Art, Korea, and the Museum of Contemporary Art, Australia from September 22nd to January 24th, 2016. This exhibition showcases works by 14 video, installation, and performance artists who use new media as their medium of choice. For the first time Kibong Rhee will be presenting his new work titled
Perpetual Snow
, a kinetic piece that takes a natural phenomenon and reinterprets it in a mechanical process. While repeatedly drawing small, round circular shapes himself, a robotic arm that is produced in the image of the artist's own arm will move along the wall-sized glass plane. During the four months' time of the exhibition, the artist plans to cover the entire surface, as snow would envelope a glass wall.
[Source from MMCA press release]