September 2015
함경아, 서울시립미술관 그룹전 참가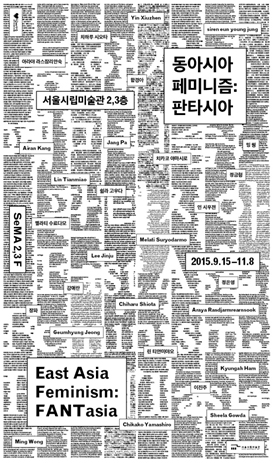 작가: Kyungah Ham (Korean, b. 1966)
전시제목: 동아시아 페미니즘: 판타시아
전시기간: 2015.09.15 –2015.11.08
전시기관: 서소문본관 2,3층
참여작가: 강애란, 이진주, 장파, 정금형, 정은영, 함경아, 린 티안미야오, 인 시우젼, 야마시로 치카코, 치하루 시오타, 아라야 라스잠리안숙, 멜라티 수료다모, 밍 웡, 쉴라 고우다
웹사이트: http://sema.seoul.go.kr/korean/exhibition/exhibitionView.jsp?seq=424
함경아 작가는 오는 9월 15일부터 11월 8일까지 서울시립미술관(SeMA)에서 개최하는 <동아시아 페미니즘: 판타시아>에 참가한다. 이번 전시는 페미니즘 시각에서 동아시아 여성미술의 현재와 그 의미를 살펴보는 전시로, 총 14인의 작가가 참여한다. 이번 전시는 사진, 설치, 조각, 회화, 영상 등 50여점의 다양한 작품을 통해 페미니즘에 대한 이해의 폭을 넓히고 동아시아 여성미술의 현주소를 파악할 수 있을 것으로 기대된다.
Kyung-ah Ham participates in a group exhibition
East Asia Feminism: Fantasia
organized by SeMA on September 15
th
, 2015 to November 8
th
, 2015. This exhibition will be held to find out the current situation and create new criteria of interpreting of Feminist Art movement in East Asia. Selected a total of 14 artists from Korea, Japan, Singapore, Indonesia, India and more introduce 50 works comprised of varied medium – photography, installation, sculpture, painting, video, etc, promotes exchange of ideas in feminism and diagnosis of current state of Feminist Art in East Asia.
<Source from SeMA website>