July 2015
박미나, 갤러리 엠에서 개인전 <24 & 36 Grays>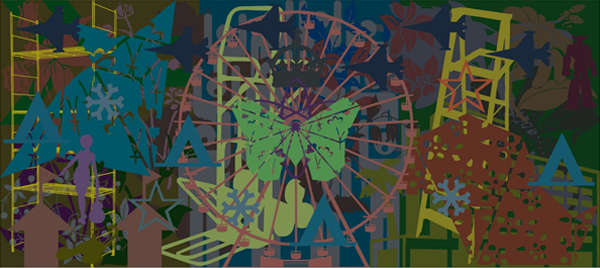 작가: Meena Park (Korean, b. 1973)
전시제목: 24&36 Grays
전시기간: 2015.07.29 – 2015.08.29
전시장소: Gallery EM, Seoul
웹사이트: www.galleryem.co.kr
박미나는 오는 7월 29일부터 8월 29일까지 갤러리 엠에서 개인전 <24 & 36 Grays>를 갖는다. 이번 전시에서 작가는 그 동안 각기 다른 양상으로 발전시킨 두 가지의 작업 체계인 딩뱃 회화와 색칠 공부 드로잉이 하나로 합쳐진 결과물을 선보인다. 언어를 기호로 변환시켜 만든 다이어그램에 색을 채워 넣는 기존의 딩뱃회화를 아동용 색칠 공부 도안으로 옮겨 특정 이미지를 남긴 나머지 공간을 채운다. 이를 통해 기존의 언어와 기호, 색으로 한계를 넘어서는 새로운 영역을 보여 주며, 기존 인식 체계의 전환에 대한 작가의 철학 및 대량생산과 사회의 규범에 대한 작가의 비판을 드러낸다.
특별히 3개의 패널로 구성된 대형 회화 작품<djswpsrkdjeldptjandjtdmfdjEjgrpdjEjgksdldbfh 언젠가 어디에서 무엇을 어떻게 어떠한 이유로>, <24 Grey Drawings>, <And Sparkling Stars!> 등은 작가가 꾸준히 작업해 온 색의 레디메이드, 기성품의 보편성, 그리고 회화의 본질과 같은 주제들에 대해 함께 고민할 수 있는 기회를 제공할 것이다.
MeeNa Park is having a solo exhibition,
24 & 36 Grays
, at Gallery EM from July 29 to August 29. The works in this exhibition show a convergence of concerns behind the artist's two representative series of works, the
Dingbat Paintings
and the
Coloring Drawings
. The artist uses Dingbat painting, a pictographic Dingbat font rearranged into new diagrams, to fill the Coloring Drawings except certain images. She constantly discovers the essence of painting and ways to expand the field of painting beyond traditional modes, revealing her deep interest regarding mass production and social standards as well. The exhibited works including
24 Grey Drawings, And Sparkling Stars!
and the large tryptic painting entitled
djswpsrkdjeldptjandjtdmfdjEjgrpdjEjgksdldbfh
provide the opportunity to see the relationship between subject, form of art and universality of readymade.