June 2015
양혜규, 구겐하임 미술관에서 소장품전 참여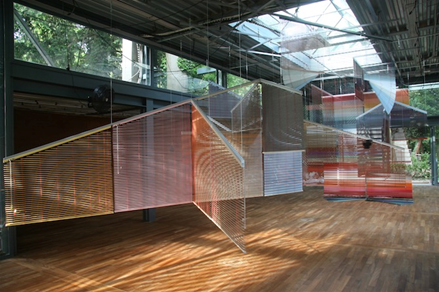 작가: Haegue Yang (Korean, b. 1971)
전시제목: 스토리라인: 구겐하임의 현대미술(Storylines: Contemporary Art at the Guggenheim)
전시기간: 2015.06.05 – 2015.09.09
전시장소: 구겐하임 미술관(Solomon R. Guggenheim Museum), New York, USA
웹사이트:
http://exhibitions.guggenheim.org/storylines/about/exhibition
양혜규의 작품이 6월 5일부터 9월 9일까지 열리는 구겐하임 미술관의 소장품전 <스토리라인: 구겐하임의 현대미술>에 전시된다. 이 미술관에서 소개되는 약 100여 점의 작품들 대부분은 2005년 이후에 제작된 것으로, 인종, 성별, 역사, 정치 등 예민한 주제들을 다룬 오늘날 예술가들의 작품을 통해 스토리텔링의 의미를 확장한다. 양혜규의 블라인드 설치작 "일련의 다치기 쉬운 배열 ― 목소리와 바람" (2009)은 일상생활 속 오브제를 소재로 관객들에게 공간, 건축, 일상, 기억 등 그가 구축한 고유의 내러티브를 전달한다.
From June 5 to September 9, Haegue Yang's work is displayed in
Storylines: Contemporary Art at the Guggenheim
, along with almost 100 works from contemporary collections of Solomon R. Guggenheim Museum in New York. The works, created mostly after 2005 by contemporary artists, deal with race, gender, history, and other crucial issues to successfully enlarge the frames of Storytelling. The blind installation
Series of Vulnerable Arrangements – Voice and Wind
(2009) shows how Yang structures her own narratives of space, domestic, light, history and home by using everyday objects.