June 2015
양혜규, 비엔나 비엔날레 2015 참여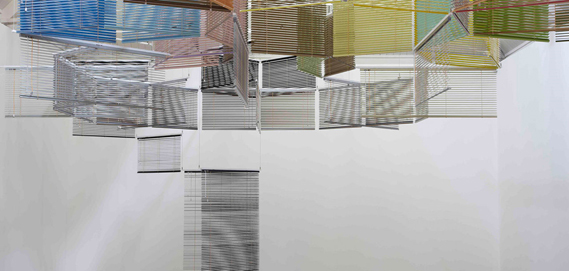 작가: Haegue Yang (Korean, b. 1971)
전시제목: Vienna Biennale 2015 Ideas for Change <Future Light>
전시기간: 2015.06.11 – 2015.10.04
전시장소: MAK(오스트리아 응용미술관), Vienna
웹사이트:
http://www.viennabiennale.org/en
양혜규는 6월 11일부터 10월 4일까지 열리는 2015 비엔나 비엔날레에 참여한다. 올해 처음 개최되는 비엔나 비엔날레는 'Ideas for Change'라는 주제로 110명의 작가들을 선정하여 미술, 디자인, 건축을 아우르는 7개의 전시와 프로젝트를 선보인다. 양혜규는 이 전시들 중 오스트리아 응용미술관에서 열리는 <미래의 빛 Future Light>에 참여하며, 전시장 중앙에 블라인드 설치작인 <도망치는 투명성 Escaping Transparency>(2011)을 설치한다. 자본주의 사회에서 발생한 여러 모순된 가치들을 극복하는 예술의 미래와 포스트-계몽주의를 테마로 다루는 이 전시에서 양혜규는 시선과 공간의 차단이라는 기능으로부터 자유로운 블라인드를 통해 그만의 조형적인 특성과 함께 공간과 사물에 대한 연구를 보여줄 예정이다.
Haegue Yang is participating in Vienna Biennale 2015 from June 11 to October 4. Inaugurating this year, Vienna Biennale presents seven exhibitions and projects about art, design, and architecture, featuring works by 110 artists from around the world under the theme of
Ideas for Change
. Haegue Yang presents her blind installation,
Escaping Transparency
(2011), in the center of the exhibition
Future Light
at MAK (Museum of Applied Arts, Vienna). The exhibition explores future of art and post-enlightenment that overcome various contradictory values born out of capitalist society. Through blinds, free from blocking sight and space, Haegue Yang reveals her insights on space and object along with her unique formative characteristics.