March 2015
홍승혜, 사비나미술관서 <아티스트 포트폴리오 II> 그룹전 참여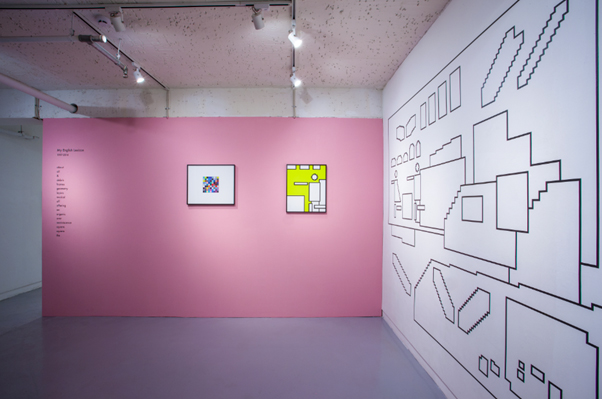 작가: 홍승혜 (Seunghye Hong, b.1959)
전시제목: 아티스트 포트폴리오 II
웹사이트: http://www.savinamuseum.com/kor/exview.action?exdgb=OF&startdt=ing
전시기간: 2015.03.18 – 2015.06.05
전시장소: 사비나미술관, 서울
참여작가: 고명근, 김기철, 김영나, 유근택, 한성필, 홍순명, 홍승혜
홍승혜는 사비나미술관의 2015년 첫 기획전 <아티스트 포트폴리오 II>에 참여한다. 포트폴리오는 예술가의 가치관과 예술 세계를 담은 움직이는 전시장이자 전업작가로서 자신의 작업세계를 객관적인 방식으로 보여주는 기록물이다. 포트폴리오의 개념은 근래에 들어 예술계 전반에서 각 분야에 입문하거나 역량을 인정받고, 새로운 기회를 얻기 위한 효과적인 커뮤니케이션 도구로 그 중요성이 부각되고 있다. 홍승혜는 이번 전시의 한 섹션인 <오픈 포트폴리오>에 참여하여 플래시 애니메이션인 <Sentimental Exercise>를 포함, <Outline>과 <Color Swatch>라는 '유기적 기하학'의 형태와 색채를 보여주는 작품을 선보이며 <My English Lexicon>이라는 벽 스티커 작업인 텍스트에 관한 기록을 출품하였다.
Hong Seung-Hye is participating in the group exhibition "Artist Portfolio II", the first exhibition of 2015 at The Savina Museum of Contemporary Art. Portfolio is a moving exhibition containing the artist's values and his artistic world as well as a documentary that objectively displays the artist's works. As an effective communications tool, the portfolio is becoming more and more important to enter into the art world, gain recognition of the works, and to obtain new opportunities. Participating in <Open Portfolio> section of this exhibition, the artist presents
Outline
and
Color Swatch
, which show the form and color of her
Organic Geometry
series, along with the flash animation
Sentimental Exercise
and wall sticker work
My English Lexicon
.