December 2014
Aaron Young showcases his new installation work AFTERBURNER 에론 영, 새로운 설치 작업 AFTERBURNER소개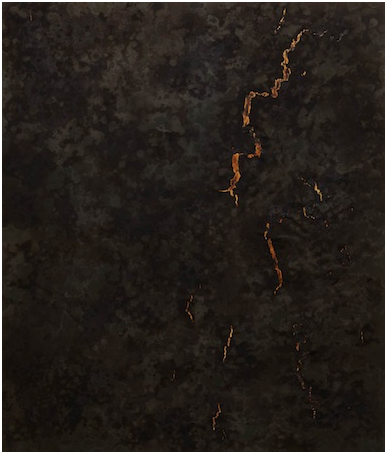 Aaron Young,
Afterburner Black 9
, 2014. Blowtorch and pigment on canvas. 78 x 66 in.
전시기관: M 빌딩, 마이애미, 미국
작품명: AFTERBURNER
전시기간: 2014년 12월 3일 – 2014년 12월 7일
웹사이트: http://www.art-agenda.com/shows/kukje-gallery-celebrates-the-launch-of-at-large-with-a-site-specific-installation-by-aaron-young/
국제갤러리는 12월 마이애미 바젤 아트페어 관련 에론 영의 새로운 설치 작업 <AFTERBURNER> 를 소개한다. 이번 설치작품은 두 가지의 상호보완적인 요소로 구성된다. 첫째는 휴대용 버너를 사용하여 갤러리 석고 벽면에 그을린 자국을 내는 것과 벽면 상단에 열 개로 구성된 일련의 캔버스 작업을 설치하였다. 이는 전자와 같은 기법을 통해 직접적으로 불을 지르는 가감되지 않은 행위와 회화적인 평면 작업 사이의 균형과 조화를 추구했다. 이전 선보인 <Burn Outs> 연작을 통해 지속적으로 진화한 이 방식은 보는 이로 하여금 모든 상상력을 무력화시키는 반면, 동시에 새로운 창조로서의 회화에 대한 연구를 제시한다.
Kukje Gallery is very pleased to announce
AFTERBURNER
, a site-specific installation of new work by Aaron Young. The installation consists of two elements each feeding into each other. First the artist has used a blowtorch to burn the walls of the existing gallery, charring the drywall and leaving scorch marks recording his action. On top of the walls Young has installed a suite of ten works on canvas. Employing the same controlled application of direct flame, the paintings balance formal composition with raw action. Evolving from Young's earlier "Burn Outs," the charred surfaces negate all imagery while at the same time creating a new procreative surface.