October 2014
양혜규, 베이징 울렌스현대미술관에서 "불균등도착" 아티스트 토크 개최 Haegue Yang's artist talk "Uneven Arrivals" at UCCA - Ullens Center for Contemporary Art, Beijing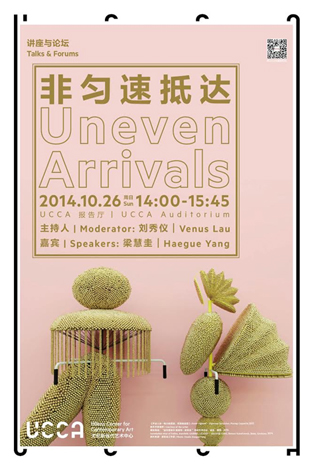 참여작가: 양혜규 Haegue Yang (Korean, b.1971)
행사기관: 베이징 울렌스현대미술센터 UCCA, Ullens Center for Contemporary Art , Beijing
행 사 명: 불균등도착 Uneven Arrivals
전시기간: 2014년 10월 26일, 14:00 – 15:45
웹사이트: http://ucca.org.cn/en
양혜규 작가의 중국 내 첫 아티스트 토크가 베이징 울렌스현대미술센터에서 열릴 예정이다. 이번 토크는 2004년 작 <창고 피스>를 시작으로 작가의 작품 세계를 조명하며 2006년에 소개된 <사동 30번지>, <일련의 다치기 쉬운 배열 – 위트레히트편>, 그리고 <일련의 다치기 쉬운 배열 – 블라인드 룸>과 같은 작업들을 통해 새로운 작업적 가능성에 대한 모색과 이의 발현을 다루게 된다. 이와 함께 작가는 지난 몇 년간의 주요 전시 및 프로젝트를 소개하며 정체성, 전기적 요소, 서사에 관한 문제를 중심으로 작품의 재료적 부분과 장소 및 정치의 물질적 측면에 관해 논할 예정이다. 본 토크는 울렌스현대미술센터 컨설팅 큐레이터인 비너스 라우가 진행을 맡는다.
Haegue Yang's first artist talk in China will be hosted by UCCA. Titled "Uneven Arrivals," the talk will introduce her practice and thoughts starting with
Storage Piece
(2004) and elaborating on her crucial development in 2006, with works including
Sadong 30
,
Series of Vulnerable Arrangements
–
Version Utrecht
and
Blind Room
. Yang's talk will revolve equally around the question of identity/biography/narratives as well as narrating her agonizing process with materials, physicality of space and politics by depicting her major exhibitions and projects over the last few years. The talk will be moderated by Venus Lau, the consulting curator at Ullens Center for Contemporary Art.
<source from Ullens Center for Contemporary Art, Beijing>