March 2015
Sharjah Biennial 12 The present, the past, the possible
제 12 회 샤르자 비엔날레 국제갤러리 양혜규 , 정창섭 , 마이클 마이클 주 참여
전시기관: Sharjah, United Arab Emirates
전시제목: Sharjah Biennial 12: The past, the present, the possible
전시기간: 2015-03-05 – 2015-06-05
웹사이트: http://www.sharjahart.org/biennial/sharjah-biennial-12/welcome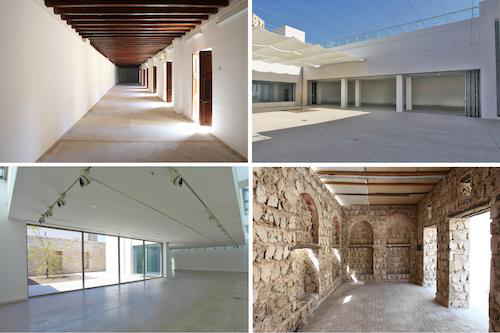 Sharjah Art Foundation venues, 2014, image courtesy of Sharjah Art Foundation
전시기관: Sharjah, United Arab Emirates
전시제목: Sharjah Biennial 12: The past, the present, the possible
전시기간: 2015-03-05 – 2015-06-05
웹사이트:
http://www.sharjahart.org/biennial/sharjah-biennial-12/welcome
샤르자 비엔날레 12 (이하 SB12)은 '과거, 현재, 그리고 가능성' 이라는 주제로 2015년 3월 5일부터 6월 5일까지 열린다. 이번 주제는 2013년 초 퍼포먼스 아티스트 단보 (Danh Vo) 와 전시총감독 주은지 큐레이터의 담론에 기반을 두고 동시대 사회상과 정치의 굴레에서 탈피한 현대미술의 미래에 대해 고민한다.
샤르자 비엔날레는 1993년 처음 개최되었으며 2014년 3월 샤르자 미술재단 (이하 SAF)이 발족하여 전시규모를 확장하였다. 아랍에미리트의 연합 국가 중 하나인 샤르자는 12만5천 년이라는 오랜 문명의 기원을 중심으로 최근 교육, 문화, 종교, 역사적 유산과 과학 등의 학문적 성과를 이룩하며 발전을 도모하고 있다.
올해 샤르자 비엔날레에는 대략 50명 이상의 작가가 참여할 예정이며 그 중 국제갤러리에서는 양혜규, 정창섭, 마이클 주가 참가한다. 특히 양혜규는 철제 배기구와 산업용 오브제를 이용한 장소특정적인 작품 <불투명한 바람>을 선보인다.
비엔날레 퍼블릭 프로그램의 일환으로 2014년 9월부터 2015년 2월까지 매달 샤르자 주변 지역에서 SB12가 주최하는 강의와 워크샵이 진행 될 예정이다. 또한 5월 11일부터 15일까지 진행되는 March Meeting 2015에서는 SB12 초청 작가와 각계각층의 문화계인사들이 참여하는 SAF의 대표적인 연례 프로그램이 있을 예정이다.
Sharjah Biennial 12 (SB12) will be on view from March 5th to June 5th. The theme The past, the present, the possible is centered on a discussion held in 2013 between performance artist Dahn Vo and curator Eungie Joo about the future of contemporary art that exists outside today's society and political influences.
Since the first Sharjah Biennial in 1993, the Sharjah Art Foundation relaunched the expanded biennale in March 2014. Part of the United Arab Emirates, Sharjah has a long history of 125,000 years, and has advanced in areas of education, culture, religion, heritage, and science with academic results.
The upcoming biennial includes more than 50 artists, listing Michael Joo, Chung Chang-Sup, and Haegue Yang among the participants. Haegue Yang will present a sited-specific installation
An Opaque Wind
(2015) which incorporates ventilation fans and other industrial objects.
The SB12 public programs, taking place from September 2014 to February 2015, will include monthly lectures and workshops in locations around Sharjah. Especially through May 11 to 15, invited artists and cultural figures will participate in Sharjah Art Foundation annual program, the March Meeting 2015.
<Source from Sharjah Biennale website>