September 2013
Hein Kuhn Oh to participate in PHOTOQUAI 2013 오형근 작가 프랑스 파리 사진비엔날레 PHOTOQUAI2013 전시 참여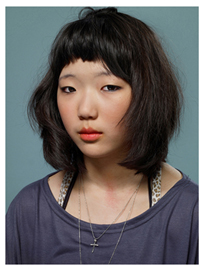 Hein Kuhn Oh,
Plate no 44. Se-eun Park, age 14, April 19
, 2008
전시작가: 오형근, 이선민, Tamara Abdul Hadi, Tarek Al-Ghoussein, Evgenia Arbugaeva, Shinya Arimoto 등 40인의 작가
전시명:
PHOTOQUAI 2013
전시장소: Garden of the Quai Branly Museum
전시기간: 2013년 9월 17일 – 11월 17일
웹사이트:
http://www.photoquai.fr/2013/photographes/hein-kuhn-oh/
국제갤러리 오형근 작가는 프랑스 파리에서 열리는 제 4회 국제이미지비엔날레 PHOTOQUAI에 참여한다. PHOTOQUAI는 비유럽 국가 출신의 사진작가들과 그들의 작업을 소개하는 전시로서 2007년부터 시작된 비엔날레이다. 센느 강변에 위치한 Quai Branly Museum 가든에서 약 2개월 동안 40인의 사진작가들의 작업을 선보이는 이 전시는 올 해 '인물'을 주제로 한 작업들을 집중적으로 선보이게 된다.
Kukje Gallery's represented artist Hein Kuhn Oh is participate in the 2013 PHOTOQUAI. Since 2007, the photography biennial PHOTOQUAI settles on the banks of the Seine from September to November to present the public with non-European photographers whose work hasn't been shown in Europe. For its 4th edition, the Photoquai photography biennial is settling on the banks of the Seine, in the garden of the musée du quai Branly, for a two-month period, to present the unpublished works of 40 non-European photographers. This year, all the images presented relate to the human figure: landscapes, objects, fashion or architecture appear in the form of elements that accompany the human being.