December 2012
빌 비올라, 노스마이애미 현대미술관에서 개인전 개최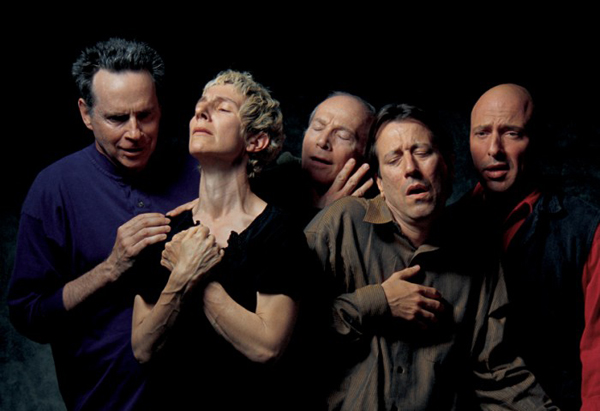 Bill Viola, The Quintet of The Astonished, 2000, Color video rear projection on screen mounted on wall in dark room. Projected image size: 1.4 x 2.4 metres; room dimensions variable
* 전시작가: 빌 비올라 Bill Viola
* 전시명: Bill Viola: Liber Insularum
* 전시기관: 노스마이애미 현대미술관 (The Museum of Contemporary Art North Miami)
* 전시기간: 2012년 12월 5일 – 2013년 3월 3일
* 웹사이트:
https://mocanomi.org/
* 전시개요:
노스마이애미 현대미술관은 비디오 아트의 선구자적 작가인 빌 비올라의 전시를 개최한다. 동서양의 정신적 전통을 작품으로 끌어들이는 대표적 현대미술 작가 중 하나인 빌 비올라는 출생, 죽음, 의식과 같은 보편적인 인간 주제를 탐구하는 비디오 설치를 고안한 것으로 유명하다.
이번 전시 는 아트 바젤 마이애미 비치(Art Basel Miami Beach)기간 동안 노스마이애미 현대미술관의 나이트 전시 시리즈(Knight Exhibition Series)의 일환으로 열린다.
15세기 피렌체 성직자 크리스토포로 부온델몬티(Cristoforo Buondelmonti)의 책 에 영감을 받은 이번 전시의 타이틀 은 책 제목의 일부이다. 또한 전시에 소개되는 작품들은 크리스토포로 부온델몬티의 역사적인 텍스트를 참고하여, 21세기 "정신의 고립"이라는 현대적인 주제와 관계를 맺고 있다. 다수의 전시작품은 1997년 휘트니 미술관의 빌 비올라 회고전 이후 제작된 것으로, (2008), (2007), (2004) 등을 포함한다. 본 전시는 내년 3월 3일까지 계속된다.
The Museum of Contemporary Art (MOCA) North Miami is presenting a major exhibition of work by Bill Viola, recognized as one of the pioneers and leading practitioners of video art. Bill Viola: Liber Insularum begins its presentation in the US at MOCA, North Miami during Art Basel Miami Beach, and is presented as a part of MOCA's Knight Exhibition Series. It was first shown last year at Sala de Arte Contemporaneo del Gobierno de Canarias (Spain). The exhibition is organized in collaboration with Bill Viola Studio and is curated by Roc Laseca.
An iconic contemporary artist who draws from Eastern and Western spiritual traditions, Bill Viola is known for creating immersive video installations that explore such universally human subjects as birth, death, and the nature of consciousness. His exhibition at MOCA North Miami is inspired by The Book of the Islands of the Archipelago, authored by the Florentine ecclesiastic Cristoforo Buondelmonti in the 15th century. The works featured in Liber Insularum (The Book of Islands) use this historic text as a reference point to engage with distinctly modern themes of spiritual isolation in a 21st-century global landscape. Many of the works in the exhibition were produced after Viola's last retrospective in 1997 at the Whitney Museum of American Art, and include Three Women (2008),Transfiguration (2007), and The Raft (2004).
Contents from The Museum of Contemporary Art North Miami