September 2012
칸디다회퍼, 쾰른 그룹전 참여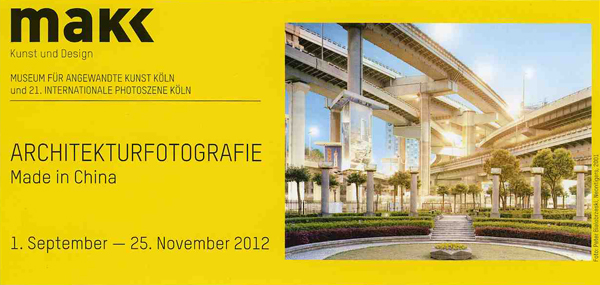 전시명: Architekturfotografie: Made in China
전시기간: 2012년 9월 1일 – 11월 25일
전시기관: MAKK Kunst und Design, 쾰른
관련 웹사이트:
http://www.museenkoeln.de/museum-fuer-angewandte-kunst/?schrift=1
http://www.deconarch.com/architekturfotografie-made-in-china-in-cologne/
담당자: 전민경 (02 3210 9885)
국제갤러리의 칸디다회퍼는 2012년 9월 1일부터 11월 25일까지 독일 쾰른 응용미술박물관 (MAKK) 그룹전시에 참여한다. 2012년 독일의 노르트라인베스트팔렌 지역에서는 올해를 중국을 기념하는 해로 지정하여 현재 중국을 기반으로 활동하는 현대 건축사진 작품들을 소개한다. 이 전시에 참여하는 서구 및 중국을 기반으로 한 작가들은 참여 작품을 통해 21세기의 중국에 대한 견해와 동시대의 도시 구조가 갖는 인식의 차이와 유사점을 보여준다.
Kukje Gallery's Candida Höfer is participating in a group show at the Museum of Applied Arts in Cologne (MAKK), from September 1 to November 25, 2012. On occasion of the China Year 2012 in North Rhine-Westphalia, MAKK presents a selection of contemporary architectural photographs that have emerged in China. Western and Chinese photographers show their views of the China of the 21st Century. They illustrate the differences and similarities in the perception of urban structures.
Participating Artists 참여작가:
Birdhead, Chen Xiaoyun, Feng Yan, Jian Pengyi, Luo Yongjin, Shao Yinong und Mu Chen, Song Tao, Weng Feng, Xiang Liqing, Yang Zhenzhong, Zhenchen Liu, Zhou Zixi, Peter Bialobrzeski, Martin Claßen, Harald Fuchs, Candida Höfer*, Nadav Kander, Ben Plefka, Tania Reinicke, Frank Schoepgens, Petra Stockhausen, Michael Wolf
*Contents provided by deconarch.com