August 2012
장-미셸 오토니엘, 뉴욕 브루클린 미술관 개인전 개최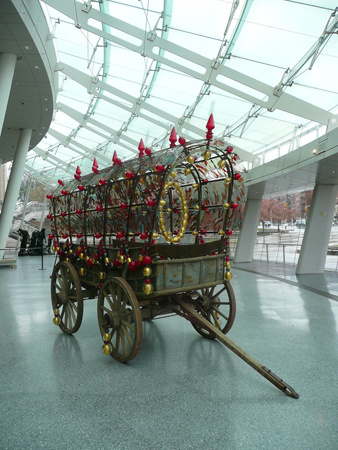 The Secret Happy End
2008
Murano glass, Saint Just's mirror glass, metal, vintage carriage
106 5/16 x 145 11/16 x 59 1/16 in. (270 x 370 x 150 cm)
Brooklyn Museum, Gift of Galerie Emmanuel Perrotin, Paris/Miami, and the artist, 2010.11.
Jean-Michel Othoniel
전시작가 : 장-미셀 오토니엘(Jean-Michel Othoniel, French, b. 1964)
전시명 : Jean-Michel Othoniel: My Way
전시기간 : 2012년 8월 17일 – 12월 2일
전시기관 : 뉴욕 브루클린 미술관(Brooklyn Museum, New York)
웹사이트 :
http://www.brooklynmuseum.org/exhibitions/jean-michel_othoniel/
담당자 : 전민경 (02-3210-9885)
국제갤러리의 장-미셸 오토니엘은 8월 17일부터 12월 2일까지 뉴욕 브루클린 미술관에서 개인전을 개최한다. 이번 전은 프랑스의 대표적 현대 미술 작가 오토니엘의 지난 25년여 간의 작업세계를 아우르는 대규모 회고전으로, 작가는 이번 전시를 통해 총 67점의 작품을 선보인다. 전시 타이틀인 'My Way'는 프랭크 시나트라(Frank Sinatra)의 곡명에서 착안한 것으로써 출품작품들은 유황, 인(燐), 왁스 등으로 제작된1980년대 초 작품과 더불어 견고하면서도 섬세한 이탈리아 무라노 섬의 형형색색의 유리로 만든 대규모 근작 등 이 주를 이룬다.
오토니엘의 유기적이고 기하학적인 유리 조각은 역사적이고 대중적인 소재에서부터 동화 속 환상적인 세계를 불러일으키는 다양한 장르를 넘나들며 해당 미술관에 소장된 (2008)이 함께 소개된다.
이 전시는 파리 퐁피두 센터에서 주관한 것으로, 이번 브루클린 미술관 개인전은 큐레이터 리사 스몰(Lisa Small)이 기획하였다.
Jean-Michel Othoniel's solo exhibition opens at the Brooklyn Museum in New York, from August 17 to December 2, 2012. Jean-Michel Othoniel: My Way, a mid-career retrospective of the work of Jean-Michel Othoniel, one of France's most prominent contemporary artists, features sixty-seven pieces that trace the artist's career over the past twenty-five years. The title of the exhibition is taken from the song made famous by Frank Sinatra, My Way, and included in the exhibition are Othoniel's early works from the 1980s, rendered in sulfur, phosphorus, and wax, that touch upon sexual identity and suffering, and his more recent large-scale works made with colorful Murano glass from Italy, a medium that combines strength and fragility.
His organic and geometrical glass sculptures conjure historical and popular references while also evoking the fantasy universe of the fairytale. Included is the museum's own Othoniel, The Secret Happy End (2008).
The exhibition is organized by the Centre Pompidou. The Brooklyn Museum presentation is organized by Lisa Small, Curator of Exhibitions, Brooklyn Museum.
*Contents provided by the Brooklyn Museum, New York.