September 2012
강임윤 작가, 노르웨이 트론헤임 쿤스트뮤지엄 개인전 개최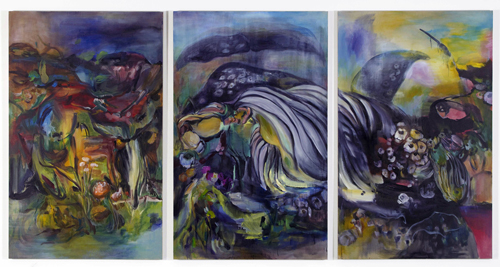 Eemyun Kang
Dawn month Whale month and Barnacle month
2012
240 x 150 cm each
? the artist
전시작가: 강임윤 Eemyun Kang (Korean, b. 1981)
전 시 명: Fungalland and the Stranded Mother Whale
전시기간: 2012. 9. 1 – 11. 1
전시장소: 노르웨이 트론헤임 쿤스트뮤지엄 (Trondheim Kunstmuseum, Norway)
홈페이지: www.tkm.museum.no
국제갤러리 강임윤 작가는 2012년 9월 1일부터 11월 1일까지 노르웨이 트론헤임 쿤스트뮤지엄에서 개인전을 갖는다. 작가는 이번 전시에서 식물들의 비밀스런 삶을 캔버스 안에 형상화 한다. 여기에 재현된 이미지는 끊임없는 과정을 거쳐온 흔적을 드러낸 버섯(fungi)이 서식하는 공간이다. 그녀는 구상과 추상을 넘나들며 강렬하고 풍부한 색감으로 상상의 세계인 'Fungalland'를 재현해 낸다. 이 세계는 오래 전 사라진 동물들과 해안의 흔적이 자취를 감춘 채 풍경으로 드리워져 있는 아주 오래된 공간이다. 강임윤은 이번 개인전을 통해 12점의 대규모 회화 작품으로 구성된 캘린더 연작을 새롭게 선보인다.
강임윤(b. 1981, 부산 출생)은 영국 슬레이드 대학에서 학사를 마쳤다. 이후, 영국 왕립 미술원에서 수학하였고 2009년 골드 메달을 수상하며 석사 학위를 받았다. 또한 올해 11월에는 이스트런던대학교에서 박사 학위를 받을 예정이다. 그녀의 작품은 영국을 비롯하여 서울, 뉴욕, 베를린, 파리, 상하이, 베이징 등 국제적으로 널리 선보여졌다. 작가는 현재 국제갤러리 2인전에 참여하고 있으며, 주로 런던에 거주하며 작품 활동을 하고 있다.
전시기획. 폰터스 키앤더
자료제공. 노르웨이 트론헤임 쿤스트뮤지엄
Have you ever thought about the secret lives of plants? Can you imagine a world inhabited by fungi, where traces reveal continuous levels of other possibilities, of other readings? Eemyun Kang places her strong, colourful canvases not only in a field of expressive, semi-figurative abstraction, but also in a fictitious world called Fungalland. This is an age-old place, where traces of long lost animals and seashores are read out of traces inscribed into the landscape. For Trondheim Kunstmuseum, Kang has produced a new series of work, a calendar consisting of 12 large paintings.
Eemyun Kang (b. 1981 in Busan, Korea) obtained her BA from The Slade School of Fine Art and completed her postgraduate studies at The Royal Academy of Arts, where she was awarded the school's prestigious Gold Medal upon graduation in 2009. She has also received her doctorate degree from University of East London. Kang's work has been exhibited widely in the UK as well as internationally, including New York, Berlin, Paris, Shanghai, Beijing and Seoul. Eemyun Kang is currently participating in a two person exhibition at Kukje Gallery. And, she currently lives and works in London.
Curated by Pontus Kyander.
Contents provided by Trondheim Kunstmuseum, Norway.