June 2012
칸디다 회퍼, 스톡홀롬 Artipelag 개인전 개최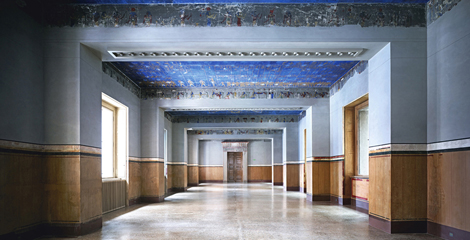 Candida Höfer / BUS 2012
전시명: 칸디다 회퍼 Candida Höfer
전시기간: 2012년 6월 30일 – 10월 28일
전시기관: Artipelag, Stockholm
웹사이트:
http://www.artipelag.se/en/exhibition/candida-h%C3%B6fer
담당자: 전민경 (02-3210-9885)
국제갤러리의 칸디다 회퍼의 개인전이 6월 30일부터 10월 28일까지 스톡홀름 알티펠라그 미술관에서 개최된다. 이번 전시는 스웨덴에서의 전시로서, 1968년 이해 현재에 이르기까지 약 100여점의 작품들로 구성되어 있다.
드물게도 회퍼 작품 중 인물이 등장하는 작가의 초기작, 1970년대 터키 이주 노동자들의 모습의 흑백사진, 1968년 리버풀 거리의 풍경, 이외에도 작가의 주요한 피사체인 세계 유수의 미술관 및 도서관 등을 담은 작품이 선보여진다.
유형학적인 사진형식의 대표적인 동시대 작가로 손꼽히는 칸디다 회퍼는 1944년 독일 에버스발데에서 태어나 현재 독일 퀼른에서 거주 및 활동 중 이다. 작가는 영화학을 전공, 올레 존 에게 사사 후, 뒤셀도르프 쿤스트아카데미에 입학하여 본격적으로 베른트 베허에게 사진학을 전공하였다. 작가의 주요 소장처로는 뉴욕현대미술관, 퐁피두현대미술센터, 스톡홀름 현대미술관 등이 있다.
Candida Höfer's solo exhibition will open at the Artipelag in Stockholm, from June 30 through October 28, 2012. This is the first time that her artwork will be shown in Sweden in a large exhibition. The exhibition includes about 100 works spanning from 1968 up until today.
Artipelag is showing early black and white photographs of Turkish immigrants in Germany during the 1970s and street scenes in Liverpool from 1968. Also later photographs of churches (taken) from churches, libraries, and museums around the world will be shown.
Considered one of the foremost representatives of contemporary photographers, Candida Höfer was born in 1944 in Eberswalde, Germany. She was educated at the Düsseldorf Art Academy where she first studied film under Ole John and thereafter photography under Bernd and Hilla Becher. Candida Höfer is represented at several of the world's most important museums such as the Museum of Modern Art in New York, the Centre Pompidou in Paris, and the Museum of Modern Art in Stockholm.
*Contents provided by Artipelag