June 2012
장-미셸 오토니엘, 바덴바덴 프리더 부르다 미술관에서 개인전 개최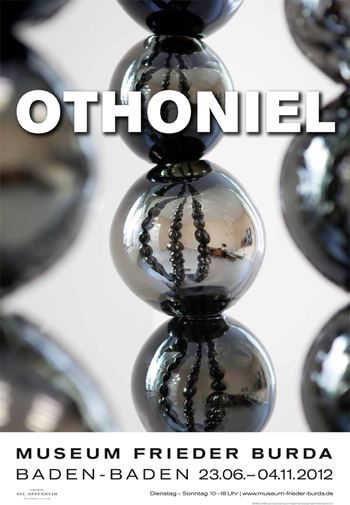 전시명: Jean-Michel Othoniel
전시기간: 2012년 6월 23일 – 11월 4일
전시기관: Museum Frieder Burda, Baden-Baden
웹사이트: http://www.museum-frieder-burda.de/Exhibitions.9.0.html?&L=1&shadow=399
담당자: 전민경 (02-3210-9885)
국제갤러리의 장-미셸 오토니엘은 6월 23일부터 11월 4일까지 바덴바덴의 프리더 부르다 미술관에서 개인전을 개최한다. 매듭(knots)이라는 주제를 가지고 열리는 이번 전시에서는 새로운 조각작품과 수채화 작품들이 선보여진다.
거울처럼 비치는 색구슬이 실로 짜여 만들어진 대규모 유리 조각은 추상적인 타래의 움직임을 형성한다. 작가는 프랑스 정신 분석학자인 자크 라캉(Jacques Lacan)의 이론에 영감을 받아 일련의 작업들을 선보이는데, 이는 2010년 오토니엘이 메츠의 퐁피두 센터 개관전을 위하여 만들었던L'In Noir 과도 함께 소개된다. 가느다란 실로 꿰어진 유리 구슬들은 기하학적 패턴을 형성하고 있으며, 12미터의 너비에 달하는 섬세한 거미줄처럼 되어있다. 작품의 제목이기도 한 l'in noir는 "검정이 아닌 (un-black)"이라는 라캉의 고유한 관용어에 기인하였다.
오토니엘 작품의 매력적이고 심미적인 면모들은 관객과 대화를 시작하는데 중요한 수단으로 작용하지만 관객에게 1차적으로 보여지는 작품의 관능적인 외양에서 보여지는 인상은 작품의 단면에 불과하다. 모쪼록 이번 바덴바덴에서 열리는 오토니엘의 첫 독일 미술관 개인전을 통해 보다 폭 넒은 작업의 면모가 읽혀지기를 기대한다.
Jean-Michel Othoniel's solo exhibition will open at the Museum Frieder Burda in Baden-Baden, from June 23 to November 4, 2012. The sculptures and watercolors in the new series being presented in Baden-Baden revolve around the theme of Noeuds (knots).
Huge strings of beads consisting of mirrored, colored glass intertwine to become abstract skeins of movement. This body of work has references to the theories put forward by the French psychoanalyst Jacques Lacan. L'In Noir is also being shown, a work Othoniel created in 2010 for the opening exhibition of the Centre Pompidou in Metz. The glass beads, connected by thin threads to form a geometric pattern, hang along the wall like a delicate web for a width of 12 meters. The artist also borrowed the term l'in noir, "un-black," from Lacan.
For Othoniel, the appealing aesthetic of his works is an important instrument for initiating a dialogue with the viewer. However, the shimmering and sparkling is clearly deception, as the glistening quality of the works causes a kind of glare and thus blinds the viewer. The exhibition in Baden-Baden marks the first time that the work of Jean-Michel Othoniel is being shown at a German museum.
*Contents provided by the Museum Frieder Burda